5/6/2006
Cooperation leads to clean up of Woodley Park
Residents of the development of Sharpley and Delaware's urban forester planted trees in Woodley Park on April 25 as part of a continuing effort to take care of the park that borders Sharpley, Woodbrook, Tavistock and Eden Ridge in Brandywine. Woodley Park was established by the Woodlawn Foundation when the farmland of Brandywine Hundred started being developed, preserving the rural character that was Brandywine. The park is part of the New Castle County park system.

Brian Hall, Delaware's urban forester, provided the trees for the planting. He also helped Sharpley win a $10,000 grant to remove debris from the park, mow underbrush that had begun to choke the forest edge and remove invasive species that had crept into the park.

New Castle County Councilman Bob Weiner (R-Chatham) said that the cooperation between Sharpley, county's Special Services Department and the state was essential to maintain and improve Brandywine Hundred. Weiner has supported several other remedial projects in the park.

Sharpley Civic Association President Chuck Landry said he was pleased with the support from the state and the county and looks forward to future efforts to clear streams and maintain the health and appearance of the park.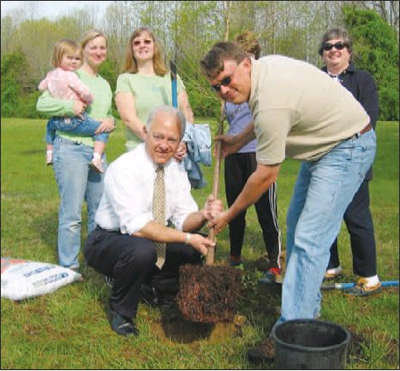 New Castle County Councilman Bob Weiner (R-Chatham) and Delaware Urban Forester Brian Hall (right) plant a tree in Woodley Park with residents of the Sharpley Civic Association.


Have news? Please contact me!