4/15/2006
Talley-Day Bark Park Clean Up
Volunteers got together on Apr. 15 to spruce up the 'bark park' in Talley-Day Park. Included among those who participated in the project organized by County Councilman Robert Weiner were County Executive Chris Coons and Council president Paul Clark.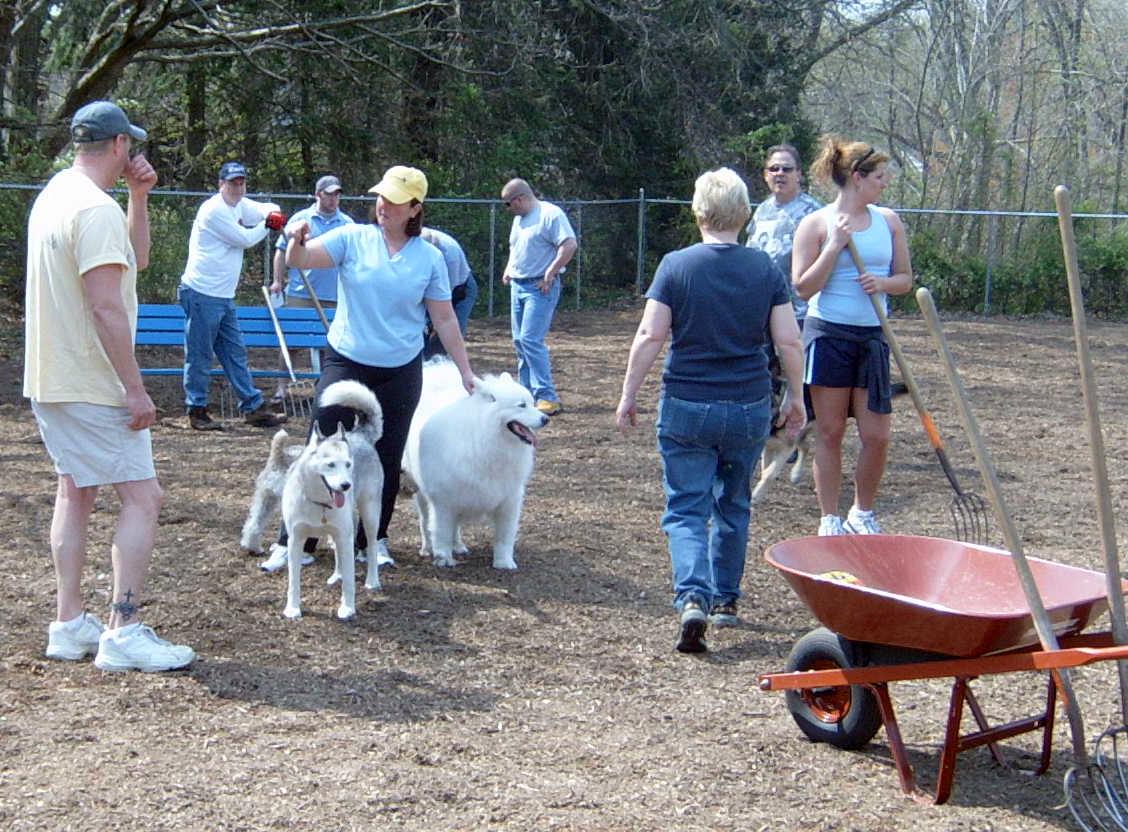 Photo by www.delaforum.com.


From the Community News:

Dog lovers help maintain Talley Day Bark Park
By Jesse Chadderdon
Staff Reporter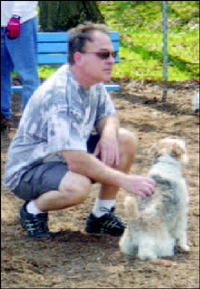 About 36 people dodged running Labradors and jumping Terriers Saturday to
put down a new layer of mulch at their beloved Talley Day Bark Park.

Frequent park patrons, many of whom brought their dogs, joined elected
county officials in helping to maintain the busy park.

New Castle County's Department of Special Services, which is responsible for
maintaining parks, supplied the mulch, shovels, rakes and wheelbarrows, but
it was the community who provided the labor.

"Special Services has just about run out of overtime hours for its employees
in this budget," said Councilman Robert Weiner (R-Chatham), who organized
the cleanup and whose Pomeranian Shayna uses the park several times each
week. "They couldn't do it themselves, so we've got the citizens who use
this park out here working on the project with a couple county workers
providing supervision."

Weiner was joined at the cleanup by County Executive Chris Coons and New
Castle County Council President Paul Clark.

"I've heard nothing but positive things about this park," said Clark, who
said he had a pile of mulch sitting in his driveway that he was going home
to spread after the park was finished. "I'm glad to be able to help the community keep this thing up."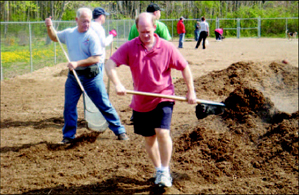 Coons said one of the keys to the success of the county's public facilities,
like its parks and libraries, were citizen groups dedicated to their upkeep.
"I'm always excited about engaging groups that have a deep love for their
facilities," Coons said. "It's not just about saving cost, but it's a wise
way to ensure facilities are valued by the community."

Dave Logan, who brings Tosh, his Siberian Husky, to the park regularly, said
he was happy to help. In fact, Logan was not aware of the scheduled cleanup
and came just to let his dog run. He said he was happy to help, though. "I'm
not complaining," Logan said. "This park gives us place to bring our dogs
and let them run freely so we don't have to walk them all the time. We use
the park so we might as well help keep it up."

Mary Molen regularly travels from Boothwyn, Pa. to let Dixie, her West Highland Terrier, run. "This is a great place, not only for dogs to socialize, but for people to socialize too," she said. "There's nothing like this in Pennsylvania, and since I don't even live in the state I'm happy to volunteer."

Weiner said that dozens of people, like Molen, travel from neighboring states to use both the Talley Day and Carousel dog parks.

"I've had people ask me for the blueprints so they can take the idea back to their municipalities," Weiner said.

He estimated that Talley Day draws about 150 people per day in the Summer and as many as 75 people on mild Winter days. The demand is so high that the state plans on constructing another dog park at the Blue Ball complex near where Foulk Road meets U.S. 202. Coons said he and Councilman David Tackett (D-Christiana) also hope to bring a dog park to the Glasgow Regional Park, which is now being developed.

Juliet Ferri said she brings her Labrador mix Honey to the park almost daily.

"I'm happy to do this," she said after filing a wheelbarrow with mulch. "We use this place so much, so it's nice to be able to give back."

Ginny Trumbull, of Ashburn Hills, agreed.

"I feel like it's my yard," said Trumbull, the owner of Reece, a German Shorthaired Pointer. "When your yard gets weathered, you don't have a problem fixing it up."

The clean up will continue next Saturday (April 22nd) in the park's area for small dogs. Volunteers should come at 10 a.m.
Have news? Please contact me!
Give Bob a "like" on Facebook: