3/25/2014
Missing RFIs delay council video vote again - Hockessin Community News
Missing RFIs delay council video vote again
Requests For Information by three council members not returned in time for March 25 meeting
Hockessin Community News
By Wm. Shawn Weigel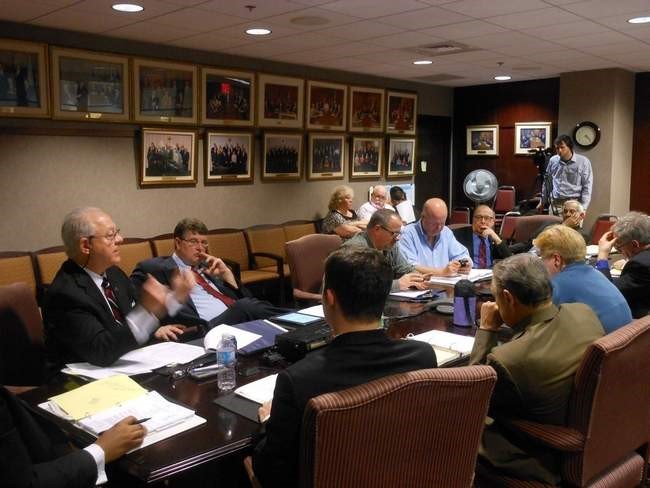 Photo by Wm. Shawn Weigel. New Castle County Councilmember Bob Weiner, far left, talks about his efforts to video capture council sessions on Tuesday, March 25, during an executive committee meeting. At far right, Brian Windle of OK Video records the session courtesy of funds from the Friends of Bob Weiner PAC.

WILMINGTON, DE
The vote on whether or not to pursue the video capture of New Castle County council committees and sessions has been delayed yet again.
On Tuesday afternoon, Councilman Bob Weiner, 2nd District, said that Requests For Information sent out by himself, councilman David Tackett, 11th District, and Councilwoman Janet Kilpatrick, 3rd District, had not come back in time for Tuesday night's council meeting.
Weiner also echoed statements made by his administrative assistant Lou Hinkle earlier that a vote on the matter would not be prudent until the Requests For Information are returned.
Weiner has been paying $150 per session for OK Video of Wilmington to video several committee meetings and one council session.
Funds for those sessions come from the Friends of Bob Weiner PAC's coffers.
Weiner said it was unfortunate that the RFIs were not returned in time, as it was his intention to find a consensus among council as to which direction to move – online streaming, cable broadcasts, and others.
"It was my full intent to go forward, having fiscal notes," he said. "(The RFIs) just didn't come forward."
Weiner, who introduced the notion at a January committee meeting, said that the movement actually dates back at least three years, stemming from a resolution put forth by Kilpatrick and Tackett in 2011.
At an executive session earlier this month, Kilpatrick proposed spending up to $10,000 to put an end to the video debate; she later withdrew that motion and instead suggested sending out for RFIs.
Councilman Jea Street, 10th District, said that he felt too much time was being wasted on the effort, and that council needed to vote either for or against the policy and move on.
"We have way more important things to worry about," Street said.
Councilman George Smiley, 7th District, said that he could not vote for anything without knowing the fiscal impact on the taxpayers.
Councilman Bill Bell, 12th District, said that he would like to see funds spent on upgrading the county's emergency medical services and amenities like libraries and community centers instead of session videos.
"I don't think anyone will argue transparency or argue having a seamless and open government," he said. "I think we do a pretty good job with openness."
Council President Chris Bullock commended Tackett, Weiner and Kilpatrick for ultimately working together on the project.
"It shows that we can work together, when we need to work together," he said.
Have news? Please contact me!