3/29/2009
Machine donated for erasing graffiti - News Journal
Citizens group will use Farrow System in northern NCCo
By ANDREW EDER • The News Journal • March 29, 2009
New Castle County's anti-graffiti army has a new weapon in its war on blight.
A West Chester, Pa., company has donated a $16,000 cleaning machine to the Citizens Anti-Graffiti Brigade, a group organized by a county councilman to help erase the mark left by "taggers" on signs, buildings and overpasses in the area.
"If you don't counterattack right away, the vandals are encouraged and they win," Councilman Bob Weiner said.
Weiner organized a demonstration Saturday of the Farrow System, a patented cleaning machine that uses hot water and finely crushed rock to remove paint with little environmental impact.
The demonstration took place at the Delaware Department of Transportation's Talley Yard maintenance facility, where several brown truck sheds have been defaced with graffiti that's visible from I-95.
Weiner and executives from Farrow Systems USA fired up the machine and took turns blasting the paint off samples of wood, metal and concrete.
"There's no place in the world that's escaping this," Nigel Farrow, the machine's inventor, said of graffiti.
The Farrow machine won't actually be used on the graffiti-covered sheds at the DelDOT facility -- it would strip off the paint. Instead, the department plans to repaint the sheds and put up fencing around them.
Mike Anderson, a supervisor for the maintenance facility, said DelDOT typically uses pressure washers and chemicals to remove graffiti, which mars structures across Delaware -- especially along the I-95 corridor -- and costs the state hundreds of thousands of dollars in cleanup costs. The department coordinates with Weiner's group to tackle problem spots.
"We've been waiting a long time to get something new," Anderson said.
Farrow, a native of England, developed the system in the 1990s to clean the bottom of racing yachts. The former professional soccer player, stockbroker and farmer got his big break when his system was featured on a BBC television program in 2000. Soon after, he moved to West Chester to crack the U.S. market.
Farrow said his system uses volcanic rock and hot water sprayed at relatively low pressures to "clean the surface without pitting it." His machines cost from $16,000 to $52,000. Farrow said the company is developing a bigger machine that he hopes to market to shipyards and the U.S. military.
Meanwhile, Weiner and his brigades are eager to put their new machine to work in Brandywine Hundred and the Greenville area, where the volunteers work to clean up graffiti.
Weiner said he's working on a system in which businesses vandalized by graffiti can donate to his group in exchange for a cleanup effort. He encouraged citizens to take pictures of new graffiti and call police if they spot a tagger at work.
Businesses or potential volunteers can visit www.bobweiner.com to learn more.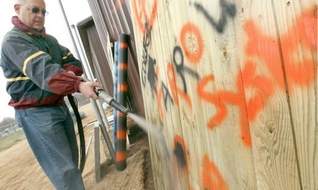 New Castle County Councilman Bob Weiner cleans graffiti from a sample wooden fence with the Farrow System, which uses water and pulverized rock to remove paint without damage to the surface. A West Chester, Pa., company donated the $16,000 machine to the Citizens Anti-Graffiti Brigade, a volunteer group.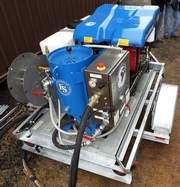 The Farrow System was developed for cleaning racing yachts in England by Nigel Farrow, who moved to this country a few years ago to market it.
Have news? Please contact me!