5/19/2008
Brandywine Town Center controversy to end - Delaforum.com
The long-running civic controversy over development of Brandywine Town Center apparently will end quietly with liberalization of deed restrictions on the property.
County Councilman Robert Weiner said he will introduce a resolution to approve changes that will allow Acadia Realty to lease about 6,000 square feet of unoccupied space under the middle dome and to erect a two-story commercial building behind the main building. In return, Acadia will give up two of three building pads around the pond in front of the main building. A playground will be located on one and both will be dedicated as permanent open space. A unique feature of the deed restriction -- a scale model defining what the center was to look like -- will be eliminated. Weiner said no one knows where the model is anyway.
Beginning in 1985, before his election to Council, Weiner led an unsuccessful effort as a civic activist to block rezoning of what had been the site of Brandywine Raceway, a race track, for the center. "The existence of the Brandywine Town Center is now a reality. This modern-day 'Battle of the Brandywine' is over," he said. He said that after more than a year of consultation with civic associations in the area "non-opposition [to modifying the restrictions] has now been formally conveyed to me." He said the changes will benefit the area by eliminating the detrimental effect of empty space that could not be made available for tenants.
Following the death of millionaire businessman John Rollins several years ago, Acadia acquired the center from Rollins Properties, which no longer exists.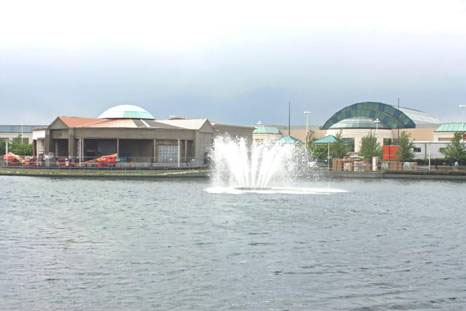 Space under the largest dome in Brandywine Town Center (right in the above photo and below) will become leaseable after County Council, as is now expected, approves changes in the deed restrictions on the property. The other dome in the above photo is atop a restaurant being constructed on one of three building pads. The other two, which also border the water feature, are to remain open space. The park-and-ride commuter station will be relocated to the little-used parking lot near the community building (not shown in the photo) which also borders the water feature. www.Delaforum.com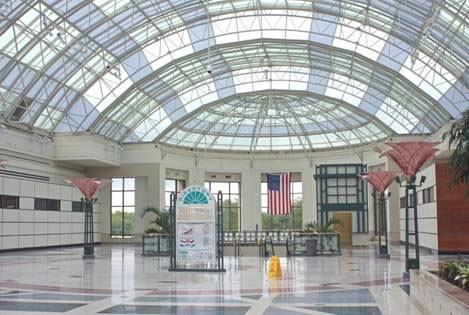 Have news? Please contact me!