4/12/2008
Councilman Bob Weiner spearheaded Talleyville Softball League fields; participates in 4/12/08 ribbon-cutting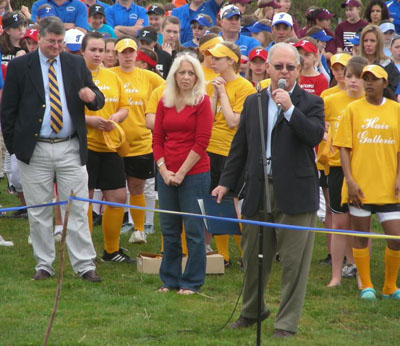 The Talleyville Girls Softball League (TGSL) was founded as a neighborhood league in 1969 by three mothers who recognized the need for an organized after-school program for girls who had the desire to play softball. Games were played after school at Channin Elementary School and were coached solely by women (no men were permitted to be involved). Teams were organized by geographic location with no tryouts or drafting. Since that first game in 1969, TGSL has played all over Northern Wilmington on school owned fields. After several years of this informal approach, the league developed the organizational structure that still exists today. By 1979, the league was sanctioned by the Amateur Softball Association (A.S.A.). In 2006, TGSL became a Pony organization, and
In 2003 Mark LaVere, President of TGSL, sought Councilman Bob Weiner's assistance to find a home for TGSL. In response, Councilman Weiner proposed to TGSL and to area State legislators that the Old Mill Lane School site be considered for the location of their "Field of Dreams". With the help of the Brandywine School District who are the owners of the school site, a cooperative partnership with the sports leagues, the Brandywine School District, Councilman Weiner and State officials developed. Councilman Weiner, Mark LaVere, Jim Julian and other TGSL volunteer parents dedicated significant time and effort to initiate 4 years of planning and community meetings with residents to develop a community endorsed four field plan for the Old Mill Lane School site. The plan was sensitive to the environment and the community character of the 10 acre parcel, upon which the deteriorated mothballed school building had become a blight upon the community. With the help of State Representatives Wayne Smith, Greg Lavelle and Bob Valihura, Senators Cathy Cloutier and Charles Copeland and other local elected officials, money was secured through the State Bond Bill to demolish the old dilapidated school, paving the way for the plan to be implemented. Thus, New Castle County, the Brandywine School District and the State of Delaware all collaborated to provide TGSL a place to call home.
In the previous 39 years, families were forced to drive all over North Wilmington to take their daughters to practices and games. Parents with multiple children in the TGSL would have to divide their time driving between fields which were distances apart. Sometimes, girls would be left at the fields on their own just so their parents could get their sisters to the other locations. Because of this, parents were not able to see their girls play some of their games.
The TGSL has grown both in size and reputation. TGSL sponsors travel teams, which have competed nationally. The recreational league continues to provide opportunities for young girls to learn the sport and cultivate friendships.
New Castle County Councilman Bob Weiner recognized and honored the TGSL and its Executive Board for promoting physical activity amongst the young women of our future at the Grand Opening of the Talleyville Girls Softball League complex at the former site of the Old Mill Lane School on Saturday April 12, 2008. These four fields will now become the cornerstone of the future of softball for the Talleyville Girls Softball League.
Photo credit: www.Delaforum.com Monday, April 14, 2008
Have news? Please contact me!