11/14/2007
Councilman Weiner Leads Citizens in Bark Park
A park strictly for dogs

Posted Wednesday, November 14, 2007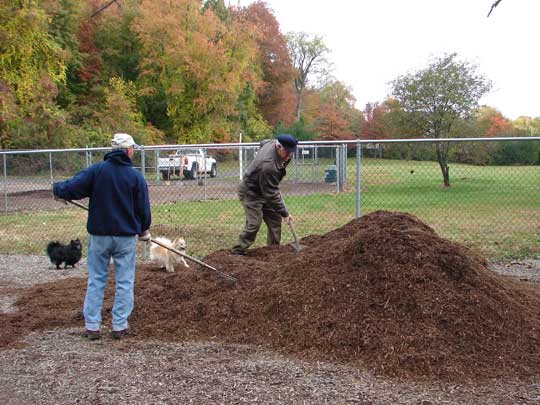 County Councilman Bob Weiner (R-Chatham--right) and John McDade, a Boothwyn, Pa., resident, spread mulch on the Brandywine Hundred Bark Park with the help of Weiner's two dogs, Mensch and Shayna.

Weiner and 15 residents met at the park, located at the Talley Day Park in Brandywine Hundred, on Nov. 10 to spread mulch, which they have done twice a year since the park opened four years ago.

The Brandywine Hundred Bark Park is the only fenced dog park in Delaware and has a one-acre park for small dogs and a one-acre park for large dogs. Residents bring their dogs to the park and let them run without a leash inside the fenced area.

Weiner was a strong proponent of the bark park, which is in his council district.
Have news? Please contact me!