12/18/2006
Councilman Bob Weiner's speech to Concord High School Band and Choral Holiday Concert Audience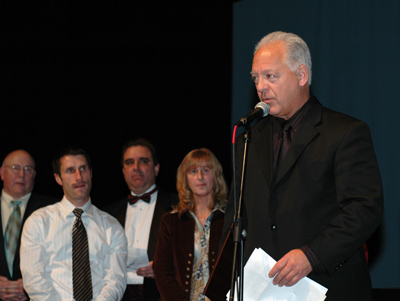 Superintendent Jim Scanlon, BSD Supervisor for Arts Tom Alderson, Principal Mark Holodick, Choral Director Tom Sabatino, Band Director Domenic Pisano, esteemed members of Concord Friends of Music and parents and ardent supporters.
I appreciate the opportunity to speak with you tonight. I have great respect for the exceptional music programs offered by Concord High School, which is renowned for its music groups. It is my distinct pleasure and honor to have sponsored this grant request for $2500. When my schedule permits, I always enjoy listening to the musical presentations at Concord High School's Winter Holiday Concert. I enjoy the theatrical and musical offerings of all of our high schools. Cultural enrichment through music and the arts in our schools is vitally important. Funding cutbacks are always threatening music and the arts. It is for this reason that I have dedicated myself to obtaining New Castle County Council funding to assist all 3 of our Brandywine School District high school programs.
I am pleased to announce that the Brandywine High School Band Booster Association, the Mount Pleasant Green Knight Band Organization, the Concord Friends of Music and the Brandywine High School Dance Program all received grants which I had the privilege of sponsoring in amounts ranging from $1000 to $2500 for a total of $8500. The purpose of the New Castle County Council grants budget is to strengthen the social, cultural, and business communities within New Castle County. Special emphasis is placed on innovative community-based programs that reach underserved populations. As County Councilman for the Second District, I am honored to have sponsored these grant requests on behalf of each of the programs. Each request was passed by unanimously by New Castle County Council.
On a personal note, my 2 daughters and I are direct beneficiaries of Brandywine School Districts music programs. My daughters were active in the band & choral programs. I was an active participant in the theatrical and choral programs. Utilizing the skills I learned in our schools, after graduating from Brandywine High School, I worked my way through college and law school as a singing waiter and dance instructor in Catskill Mountain resorts. It is my now time to give back. I am pleased to be able to sponsor funding grants through New Castle County Council to support the wonderful musical and artistic programs at our Brandywine School District educational facilities.
I want to personally thank the applicants of each of these grants who worked with me to secure this funding: Kerry Meluskey, Concord Friends of Music, Erika Brown, dance teacher for Brandywine High School, Vera Williams, Fundraising Chair for Brandywine High School and Jon Husband, Mt. Pleasant High School.
The wonderful Music presentation that we have heard tonight under the leadership of Tom Sabatino Director of Vocal Music, and Domenic Pisano, director of Instrumental Music here at Concord High School is a testament to both their musical skills and as well as to the dedication of our wonderfully talented students. Warm holiday greetings to everyone!
Have news? Please contact me!